HOW DO I GET SAVED???
Easy!!!
First you have to know who Jesus Christ is.
Read the New Testament of the Holy Bible.
Some of these blokes lived with Jesus and seen him in action.
Most of these fellas were killed for their belief that Jesus was who He said He was.
THE SON OF GOD!
So choose to BELIEVE.
Joh 3:16 For God so loved the world, that he gave his only begotten Son,
that whosoever believeth in him should not perish, but have everlasting life.
Believe that He died for you.
Then admit your a sinner.
Jesus is the Son of God who came down to take away the sin of the world. This means everybodys.
We all know we have done wrong things, our conscience convicts us.
SAY SORRY TO GOD.
Rom 3:10 As it is written, There is none righteous, no, not one:
1Jo 1:8 If we say that we have no sin, we deceive ourselves, and the truth is not in us.
1Jo 1:9 If we confess our sins, he is faithful and just to forgive us our sins, and to cleanse us from all unrighteousness.
It is no use just believing that Jesus is the Son of God. We must Repent.
Jam 2:19 Thou believest that there is one God; thou doest well: the devils also believe, and tremble.
Also we must forgive those who are our enemies and all who have hurt and disappointed us as Jesus commands us.
Mat 6:14 For if ye forgive men their trespasses, your heavenly Father will also forgive you:
Mat 6:15 But if ye forgive not men their trespasses, neither will your Father forgive your trespasses.
Ask Jesus Christ who is alive and risen from the dead to be
your Lord and Saviour.

There is a warning though.
I will let you know.
Because you are about to move from one kingdom to another there is an enemy of our soul. The spirit realm is real and there is a war going on for the hearts and souls of men.
2Co 4:3 But if our gospel be hid, it is hid to them that are lost:
2Co 4:4 In whom the god of this world (SATAN) hath blinded the minds of them which believe not, lest the light of the glorious gospel of Christ, who is the image of God, should shine unto them.
1Pe 5:8 Be sober, be vigilant; because your adversary the devil, as a roaring lion, walketh about, seeking whom he may devour:
Just as Lord Jesus ( who is God ) and his angels are real, so is Satan ( only a fallen angel ) and his angels and demons.
Eph 6:12 For we wrestle not against flesh and blood, but against principalities, against powers, against the rulers of the darkness of this world, against spiritual wickedness in high places.
They play with our minds and our spirits. Their words can sound like our thoughts. They hide their existance.
They are mankinds enemy and they hate what Jesus done on the cross.
If you are not real about leaving all to follow God then you are better off not to say this prayer because if you do say it and change your mind then the devil and his mates will eat you for breakfast. I know because I have seen many come to the Lord in their trouble, be delivered and think I'm right now, I can go back to doing what I please. They are worse now than what they were beforehand.
Luk 9:62 And Jesus said unto him, No man, having put his hand to the plough, and looking back, is fit for the kingdom of God.
2Pe 2:20 For if after they have escaped the pollutions of the world through the knowledge of the Lord and Saviour Jesus Christ, they are again entangled therein, and overcome, the latter end is worse with them than the beginning.
2Pe 2:21 For it had been better for them not to have known the way of righteousness, than, after they have known it, to turn from the holy commandment delivered unto them.
What are demons?
Go to
http://www.soulwinners.com.au/5.html
But those who know that the world is passing away
1Jo 2:15 Love not the world, neither the things that are in the world. If any man love the world, the love of the Father is not in him.
1Jo 2:16 For all that is in the world, the lust of the flesh, and the lust of the eyes, and the pride of life, is not of the Father, but is of the world.
1Jo 2:17 And the world passeth away, and the lust thereof: but he that doeth the will of God abideth for ever.
and will cherish the love, hope, joy and peace that you will recieve when you are born again by the Spirit of the living God,
Phi 4:7 And the peace of God, which passeth all understanding, shall keep your hearts and minds through Christ Jesus.
Then go for it, it is life itself you will recieve.
See
http://www.soulwinners.com.au/6.html
Say a simple prayer like this
Dear God, I believe that you sent your only Son Jesus to die and shed his blood on the cross for my sins.
I am sorry for my sins and ask for your forgiveness.
I believe that the Lord Jesus Christ is risen from the dead and now is seated at the right hand of the Father.
I turn away from my sins ( Confess them now ) and invite You Lord Jesus into my heart to be my personal Lord and Savior.
I also forgive all my enemies and all those who have hurt and disappointed me ( name and forgive them all now ) and ask you Jesus to bless them if they are still alive.
Please wash me clean and remove all burdens and bondages, all guilt and shame and all fears and make me whiter than snow.
I renounce all the workings of Satan of witchcraft, idolatry, sexual sins, pride, unforgiveness and ask you please Lord Jesus to set me on the narrow path and place in me the Fear of the Lord that leads to life. Amen.
If you were fair dinkum and believe what you just said
then you have just been SAVED.
If you are still not sure, don't worry,
just the fact that you were willing to say this prayer means that God is working in your life already.
Rom 10:9 That if thou shalt confess with thy mouth the Lord Jesus,
and shalt believe in thine heart that God hath raised him from the dead, thou shalt be saved.
Rom 10:10 For with the heart man believeth unto righteousness; and with the mouth confession is made unto salvation.
Jesus says that we are to confess this faith in front of men.
Mat 10:32 Whosoever therefore shall confess me before men, him will I confess also before my Father which is in heaven.
Get around other true believers and read your bible everyday.
The bible says that
Heb 4:12 For the word of God is quick, and powerful, and sharper than any twoedged sword,
piercing even to the dividing asunder of soul and spirit, and of the joints and marrow, and is a discerner of the thoughts and intents of the heart.
It will show you the division between soul and spirit so you will walk in the fullness, power and authority God wants all humans to have because
Rom 8:13 For if ye live after the flesh, ye shall die: but if ye through the Spirit do mortify the deeds of the body, ye shall live.
Rom 8:14 For as many as are led by the Spirit of God, they are the sons of God.
The bible can also sort out the thoughts and intents of the heart.
The motives that move us sometimes are way out of whack,
but the word of God will soon reveal your heart if you let it.
You will read in the Word and maybe get the urge to be baptized. DO IT!
Mat 28:18 And Jesus came and spake unto them, saying, All power is given unto me in heaven and in earth.
Mat 28:19 Go ye therefore, and teach all nations, baptizing them in the name of the Father, and of the Son, and of the Holy Ghost:
Mat 28:20 Teaching them to observe all things whatsoever I have commanded you: and, lo, I am with you alway, even unto the end of the world. Amen.
Act 2:38 Then Peter said unto them, Repent, and be baptized every one of you in the name of Jesus Christ for the remission of sins, and ye shall receive the gift of the Holy Ghost.
AMEN and PRAISE THE LORD.
This is what brought the amazing change in my life and it can be just as amazing for anybody.
2Co 5:17 Therefore if any man be in Christ, he is a new creature: old things are passed away; behold, all things are become new.
This is a supernatural thing that unless one experiences it for themself, one cannot understand.
May you Father, Lord God Almighty, Creator of the heavens and the earth and the seas and all that is in them, bless those that have come to you today with peace, love, hope and joy, and all the good things that come from You, and in the world to come, eternal life.
I ask you this in the mighty name of Your Son Jesus Christ, the King of Kings and the Lord of Lords, the Alpha and Omega, the First and the Last, the Beginning and the End.
AMEN.
 
THE HOLY SPIRIT.


Jesus recieved the Holy Spirit when He was baptized in the Jordan river.
Luk 3:22 And the Holy Ghost descended in a bodily shape like a dove upon him, and a voice came from heaven, which said, Thou art my beloved Son; in thee I am well pleased.
The Holy Spirit is what we recieve when we are born again.
John 3:3, Jesus answered and said unto him, Verily, verily, I say unto thee, Except a man be born again, he cannot see the kingdom of God.
Luke 17:21, Neither shall they say, Lo here! or, lo there! for, behold, the kingdom of God is within you.
Romans 14:17, For the kingdom of God is not meat and drink; but righteousness, and peace, and joy in the Holy Ghost.
The Holy Spirit ( Comforter, Spirit of Truth) comes to live inside us,
John 14:16,17, And I will pray the Father, and he shall give you another Comforter, that he may abide with you for ever; Even the Spirit of truth; whom the world cannot receive, because it seeth him not, neither knoweth him: but ye know him; for he dwelleth with you, and shall be in you.
He speaks to us from within,
John 14:26, But the Comforter, which is the Holy Ghost, whom the Father will send in my name, he shall teach you all things, and bring all things to your remembrance, whatsoever I have said unto you.
He gives revelation and truth,
John 16:13,14, Howbeit when he, the Spirit of truth, is come, he will guide you into all truth: for he shall not speak of himself; but whatsoever he shall hear, that shall he speak: and he will shew you things to come. He shall glorify me: for he shall receive of mine, and shall shew it unto you.
He will heal our bodies,
Romans 8:11, But if the Spirit of him that raised up Jesus from the dead dwell in you, he that raised up Christ from the dead shall also quicken your mortal bodies by his Spirit that dwelleth in you.
Our minds and emotions,
2 Timothy 1:7, For God hath not given us the spirit of fear; but of power, and of love, and of a sound mind.
We must have the Holy Spirit to be a true Christian,
Romans 8:8,9, So then they that are in the flesh cannot please God. But ye are not in the flesh, but in the Spirit, if so be that the Spirit of God dwell in you. Now if any man have not the Spirit of Christ, he is none of his.
It is His Spirit that gives us the hope of salvation.
Romans 8:16, The Spirit itself beareth witness with our spirit, that we are the children of God:
It is power from above
Act 1:8 But ye shall receive power, after that the Holy Ghost is come upon you: and ye shall be witnesses unto me both in Jerusalem, and in all Judaea, and in Samaria, and unto the uttermost part of the earth.
It is His Spirit that brings the change that I and many others have experienced.
It is a supernatural thing that happens and difficult to explain unless one experiences it.
If you have been saved then you should know this. If you are not saved then "GET SAVED".
Then you will know what it means to
PRAISE THE LORD.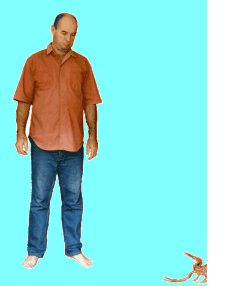 Luk 10:19 Behold, I give unto you power to tread on serpents and scorpions, and over all the power of the enemy: and nothing shall by any means hurt you.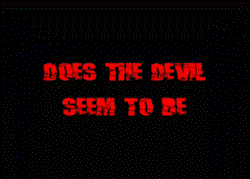 Click above to learn Spiritual Warfare
Tell your friends about
the Holy Spirit.

Click this and tell your friends
how to escape the fires of Hell.